Top 5 items you should always have in your makeup bag:
Concealer

Mascara

Blush

Eyebrow product

Lip product
I think these items are essential to have in your makeup bag and each of these items can be swap out for a different type, color or brand that you're currently loving. This way you're always exploring your current stash! I'll show you a few of my favorite items that I have been using for many years and also newer products that are worth trying (and add to your current collection). 
1. CONCEALER 
With skin texture changing every season, either it being too oily or too dry, you're most likely switching up your concealer. In the winter you may opt for a more hydrating concealer and in the summer you may want to wear a concealer that is not too heavy. Perhaps some days you may want full coverage and other days you just want a light coverage. 
All Time Favorites:
Maybelline Instant Age Rewind Concealer (not pictured)
This is my #1 product that I use everyday and I absolutely love this concealer! It is so universal in a way that you can apply lightly and get a natural finish or build it up to get full coverage. I know many women have raved about this product as well. I have medium skin tone and I wear color medium, which gives brightness to my under eye area and covers my dark circles quite nicely. With this concealer, I can wear it throughout the year and have no issues even when my skin texture changes.
It's not pictured because my concealer is almost gone and the tube looks messy. I'm too embarrassed to show it but click here and you can see the actual product.
Milani Conceal and Perfect Longwear Concealer
This is a newer concealer that I have recently been enjoying for the past year. This gives medium to full coverage and you can build it up with no cakey issues. I particularly like using this in the winter months because I feel it gives more hydration to my under eye area and also any where on my face that needs a little coverage like a blemish. I am medium skin tone and I have been using color light beige. However, I feel like I could use a lighter shade but for now I like that it closely matches my skin color and still gives enough brightening effect to my under eye.
MAC Studio Fix 24-Hour Smooth Wear Concealer
The title really says it all – 24 hour and smooth wear – which is why I like to use this concealer in the summer months. It has lasted very well through hot heat, a bucket of sweat, and heavy rain. I have never worn any concealer for 24 hours but I have worn this concealer for at least 12 hours. This is medium to full coverage and I am wearing shade NC30. The texture is very smooth (hence the title) and blends out quite nicely providing great coverage.
Tip: The best way to apply any concealer is to use a Beauty Blender. I've dedicated an entire blog post on it. Check it out here.
2. MASCARA
I switch mascara between waterproof and non-waterproof. On rainy and hot summer days I prefer to wear waterproof mascara to avoid my eyes from getting smeared from the rain or sweat. On cooler days I like to wear non-waterproof mascara and this is my preferred way most the time because it's easier to remove.
All Time Favorites:
This is a great mascara to wear year round since it doesn't smudge or flake off. It actually wears off nicely too. I have stick straight eyelashes and this mascara provides a nice lift for my lashes without weighing them down. There are many non-waterproof mascara that easily weigh down lashes but this formula provides a lifting and lengthening effect. 
L'Oreal Voluminous Million Lashes Waterproof Mascara
My tried and true mascara since high school days y'all! I have been using this waterproof mascara for YEARS…over 10 years. I love wearing this particular mascara because it provides a beautiful lift to my lashes and lengthens them at the same time without looking clumpy. I can make my lashes look very natural or dramatic depending on how many coats I want to apply. Since it is waterproof, my lashes does not fall down, flake, or smudge. It stays beautiful all day.
Tip: Always curl your lashes before applying mascara. To give your lashes that lifting effect you'll want to start applying the mascara at the root of your lashes. Place the wand at the root of the lashes and give it a few wiggles moving the wand left and right before pulling it through the lashes. You want the bottom part or the root of your lashes to have the most product and less product on the tip of the lashes. Too much product on the lashes can weigh down your lashes especially those with stick straight lashes like me. To lengthen your lashes, you'll want to pull the wand through your lashes with light wispy strokes. Don't overdo it and it will look clumpy. You can still achieve the dramatic lashes without the clumps. Just make sure to use light wispy strokes.
3. BLUSH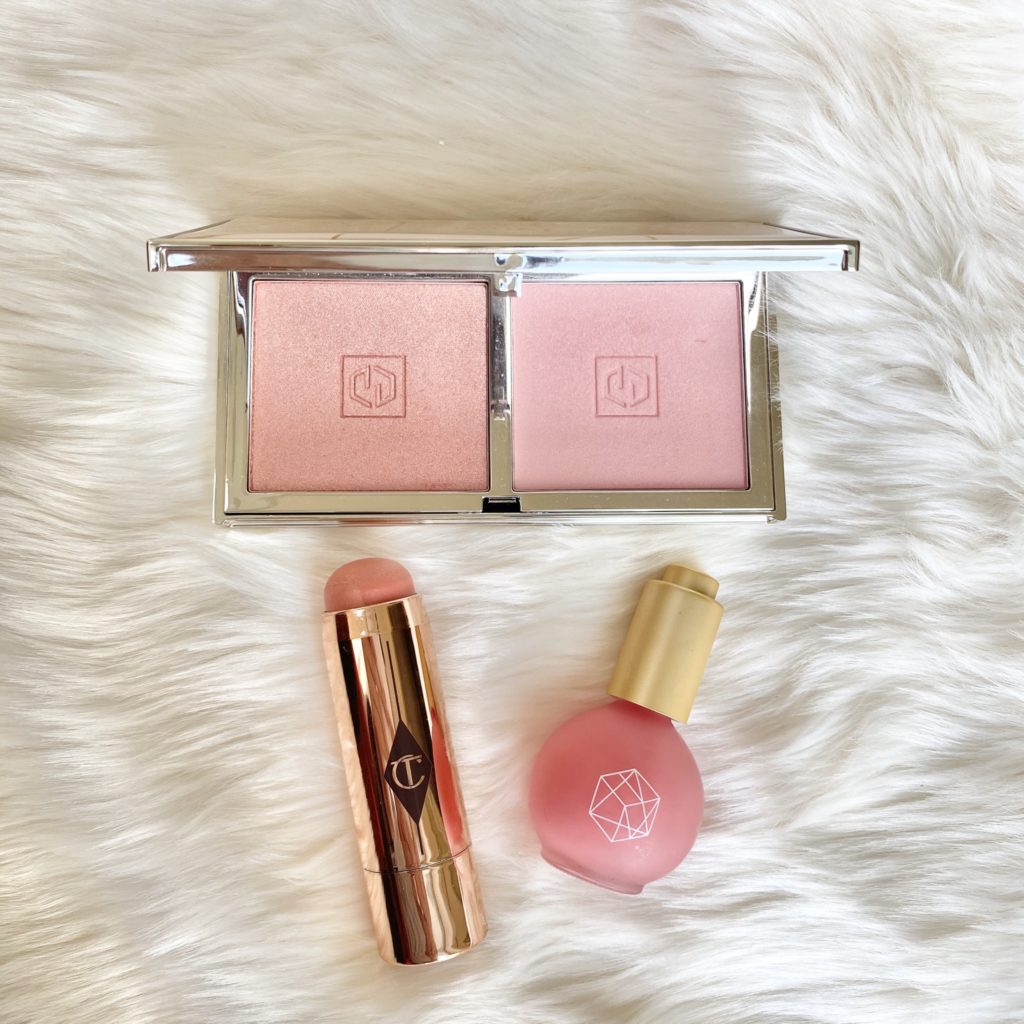 I love a good blush! My weakness is blush and I have a huge collection of them. I wear blush everyday and I never leave the house without wearing blush. It instantly adds color to your face and makes you look healthy. I love switching between a powder blush and cream blush. I tend to stick to pink and mauve colored blushes because it gives a natural flush to my cheeks and I always go for the natural look.
All Time Favorites:
Jouer Cosmetics Blush Bouquet Dual Blush Palette in Rose Gold Collection
Jouer Cosmetics is one of those brands that makes beautiful blushes! This dual blush collection is worth every penny! A powder blush that is super pigmented, blends out evenly, and wears off beautifully throughout the day. I love that it is dual which means you can wear it many ways – wear each color separately, mix them together, wear the lighter shade all over your cheeks and pop the darker shade on the apples of your cheeks, or do the opposite to both colors. This also makes it travel friendly because you have 2 blush colors and many ways to wear them. I always pack this collection when I'm traveling.
Charlotte Tilbury Beach Lip & Cheek Stick in Moon Beach
Ms. Tilbury is fabulous and so is her makeup line. I love this product because you can wear it on your cheeks and also on your lips. Products that are multi-use are just genius inventions! The color is absolutely gorgeous with some shimmer and this shade will compliment many different skin tones. I love wearing this in the summer because the sun reflects on the shimmer giving a gorgeous glow and it does not smudge or melt from the heat. It is creamy and blends out very easily. This will make your cheeks and lips look very beautiful!
EM Cosmetics Color Drops Serum Blush in Pink Nectar
I have been experimenting with EM Cosmetics for the last 2 years and loving so many of her products. Every single item that I have tried have been very positive and I love the story on how and why she created each item. Who would have thought to put serum in a blush?! Answer: Michelle Phan! And what better way to nourish your skin while wearing makeup all day? Answer: Put nourishing ingredients into the actual product! It's genius! I love it! I own 2 colors of this serum blush in Pink Nectar (pictured) and Rose Milk (not pictured). Rose Milk gives a natural flush to the cheeks like a mauve pink color and Pink Nectar is more rosy pink. Both colors are very beautiful upon application and will compliment many skin tones. I like to apply the serum blush using my fingers. It blends out very evenly and easily, and you can also build it up.
4. EYEBROWS
Whether you have thick brows, thin brows, or no brows, enhancing and maintaining your brows is so important because it frames your face. You can skip all other steps but having legit eyebrows adds dimension and character to your face. You can enhance your brows with a pencil, brow gel, pomade, powder, or even an eyeshadow color that matches your brow hair color. You can always switch these products around and whichever you prefer just get those brows on point!
All Time Favorites:
EM Cosmetics Fine Liner Brow Pencil 
I LOVE this brow pencil! Not only is the color a perfect match for my hair but it is also long lasting without smudging or disappearing when night time comes! The tip is very thin, slim, and oval-shaped allowing you to draw in hair-like strokes. You can definitely build up the intensity depending how hard you pressed down and the color is so pigmented. It is super easy to use and anyone learning to fill in their brows will have an easy time with this pencil. I have tried other brands but this one is by far my most favorite and most used eyebrow pencil. 
This is a fun product to have in your makeup bag and will require some practice to get used to holding and flicking the pen to get hair-like strokes. The brush is so fine and featherlight which allows you to draw realistic hair on your brows. There is no smear or smudge when wearing this product and it last all day. You'll look like you have your eyebrows microbladed. Really awesome product!
Benefit Cosmetics Gimme Brow Voluminizing Fiber Gel
Benefit is known for their eyebrow products and their fiber gel is definitely one of them. The gel has tiny microfibers and when you brush them through your brows, they cling onto your brows giving the effect of a full thick brow. The brush is super tiny and it comes to a tapered point so you're able to stroke your brows at different angles. I like to use the fiber gel on my low maintenance days and it's super fast to get nice brows without having to pencil fill them in. On my high maintenance days, I will fill in my brows using EM Cosmetics eyebrow pencil and then finish them off with this fiber gel. Talk about super full thick brows! 
This brow product has wax/pomade built in which gives the brows a soft and stiff yet flexible hold. With one stroke, your hair strands will stay put. This is very easy to use and manipulate on how you want your brows to look. It is also buildable allowing you to create full thick brows. It last all day with no smudge or flake. Similar to the Benefit fiber gel, I will use this on days when I want to keep my brows simple yet in place and other days I will use both pencil and Glossier Boy Brow to get a full thick brow that will last all day. 
5. LIPS
Who wants juicy luscious pretty lips? Me! Me! Everyday! I personally like to use a lip balm or lip mask to make sure my lips are juicy and luscious. It is the best way to tackle dry chapped lips and bring your lips back to life. Wearing a lip balm gives the illusion of thick lips as well because of its gloss and shine. I always wear a lip balm both morning and night and even under my lipstick too. There are so many lip options and colors to choose from. Switch the lip balm for a lipstick, lip stain, lip gloss, or go for a matte, shiny or satin finish. 
All Time Favorites:
This is my #1 favorite item out of all lip products I own. My lips get easily chapped and cracked if I am not wearing some type of lip balm. This lip product has saved my lips from numerous occasions and I wear it throughout the day. Upon application, it conditions your lips providing immediate relief. It is not tacky or greasy, nor heavy either, it just feel very comfortable on the lips. There is a tint of soft pink flush to the lips, it is so faint it will match your lip color, and provides a healthy shine. 
EM Cosmetics Lip Cushion – Tinted Lip Luminizer 
Another favorite item from the EM Cosmetics line…the tinted lip cushion. I really like this item and I carry it in my purse all the time, well it actually lives in my purse. This is one of those universal lip products that everyone can enjoy because the color compliments everyone! It doesn't matter what your skin color looks like or what your natural lip color is, this will look good on everyone. The lip cushion is very moisturizing, adds a ton of shine, and super comfortable to wear all day. It even wears off nicely and I love reapplying it throughout the day. This is a must have item! 
KKW by Kylie Cosmetics Liquid Lipstick
This is my favorite lipstick set from Kylie Cosmetics collaborating with her sister Kim from KKW Beauty. This set has 5 lipsticks and the colors range in variations of pinkish nude. I think all of the shades are very pretty. When wearing these lipsticks, they feel light, not greasy, not tacky, no scent, and very comfortable. However, the staying power is not long lasting, it actually feels like a lip gloss instead of a lipstick. I enjoy the colors so much the staying power does not bother me. If you are into pinkish nude lip products, you'll enjoy this set.
Buxom Full-On Plumping Lip Cream Gloss
I am a BIG lover of Buxom lip gloss for decades! My absolute favorite is White Russian and I am sure this is many people's favorite as well because this shade has been around for ages. I only have good things to say about this product. It feels super comfortable on the lips even though it is slightly tacky, and you will feel a slight cooling sensation upon application but the tingle doesn't last long. The colors are gorgeous, what you see from the tube is what you'll get. I have tried many shades and they all compliment either my lips or whatever lip products I have on.
These are my essential items that I use every day when getting ready and I always carry them with me when I travel. What are your must-have items in your makeup bag? Please share in the comments below. 

Love, 
KLB